December 11, 2021 | 11am-1pm
Holiday-themed community food distribution and a unique "yard sale" where kids 18 and under can shop for gifts using Awana bucks. Earn Awana bucks by bringing a canned good to share, sharing something you're thankful for, or sharing a scripture you've memorized. Free cookie decorating and gift wrapping for kids, along with our signature Farmers Market-style food distribution. We hope to see you here!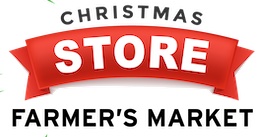 Christmas Store: How It Works
The Christmas Store is a yard sale with new and like-new items that kids can "buy" using Awana Bucks. Each child (up to age 18) can earn up to 30 Awana Bucks to spend at the Christmas Store.
Earn 1 Awana Buck:
Recite 1 "1-Buck Level" Verse
Share 1 Thing You are Thankful For
Earn 5 Awana Bucks:
Donate 1 Can/Item of Food
Recite 1 "5-Buck Level" Verse
1-Buck Level Verses:
"God has given us eternal life, and this life is in his Son." (1 John 5.11a)
"Be transformed by the renewing of your mind." (Romans 12.2a)
"True worshipers will worship the Father in the Spirit and in truth." (John 4.23a)
"Encourage one another and build each other up." (1 Thessalonians 5.11a)
"Look after orphans and widows in their distress." (James 1.27a)
5-Buck Level Verses:
"And this is the testimony: God has given us eternal life, and this life is in his Son. Whoever has the Son has life; whoever does not have the Son of God does not have life." (1 John 5.11-12)
"Do not conform to the pattern of this world, but be transformed by the renewing of your mind. Then you will be able to test and approve what God's will is—his good, pleasing and perfect will." (Romans 12.2)
"Yet a time is coming and has now come when the true worshipers will worship the Father in the Spirit and in truth, for they are the kind of worshipers the Father seeks." (John 4.23)
"Therefore encourage one another and build each other up, just as in fact you are doing." (1 Thessalonians 5.11)
"Religion that God our Father accepts as pure and faultless is this: to look after orphans and widows in their distress and to keep oneself from being polluted by the world." (James 1.27)
For more info and an updated calendar of events, please visit svchurch.org